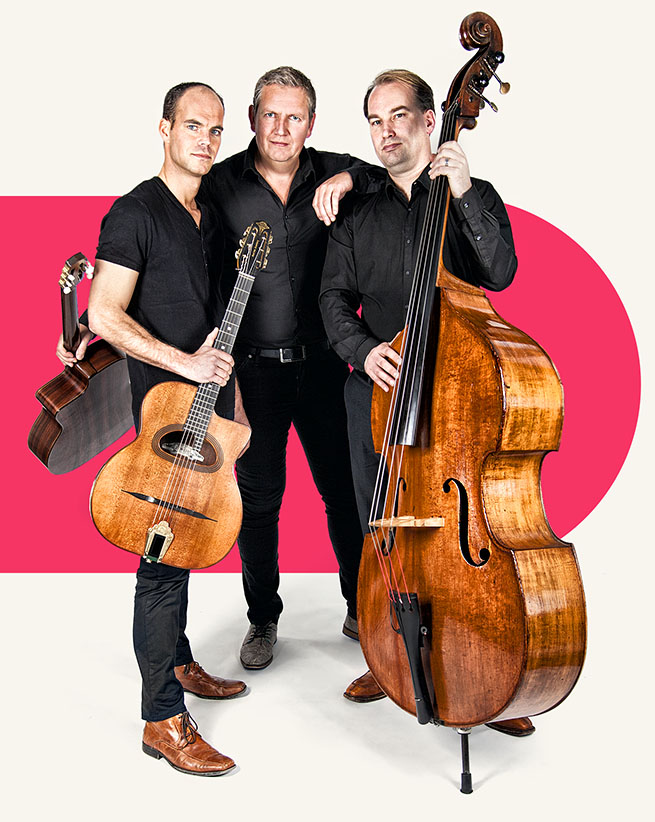 Gypsy Jazz full of character, with a modern twist. Inspired by the legendary Django Reinhardt and other great musicians, Parisien takes you on a complete and unique Gypsy Jazz experience with melodic themes and catchy rhythms. The repertoire consists of Gypsy Swing classics with their own interpretations and modern compositions from various music genres such as Latin, Bossa Nova, Bepop and Rumba. The trio has a particularly dynamic interaction and is known for its professional and solid performances. They play straight from the heart and tell the story. You hear that and you feel it.
Parisien was founded in 2001 and is led by guitar virtuoso Don Vink. His (fast) solos are performed with great finesse and sensitivity. With his endless endurance, rhythm guitarist Pascal Theune ensures a tight and authentic Gypsy rhythm. The characteristic swing is created by the sharply timed and flowing bass lines of bass player Govert Veltkamp. Parisien has given concerts at (international) jazz festivals such as the famous Django Reinhardt Festival (FR), Amsterdam Uitmarkt, Django Festival Hildesheim (DE) and the famous North Sea Jazz festival.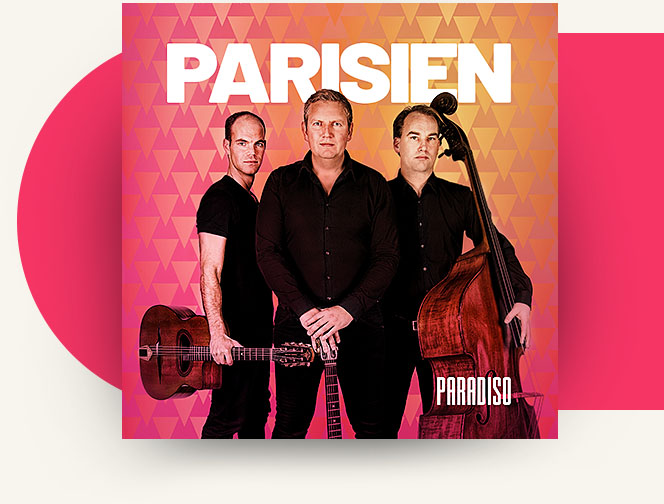 Parisien's latest album, "Paradiso," was released in April, 2018. Feel the energy of the swinging tracks Moorea, Paquito, Night and Day, Blue Bossa and Hallelujah I Love Her So. Or let yourself be carried away with the melodic and sensitive ballads Bolero Triste, Speak Softly love and I Wonder Who's Kissing Her Now.
Listen to a preview below or listen to the entire album on Spotify, iTunes or Deezer or buy it via Apple Music.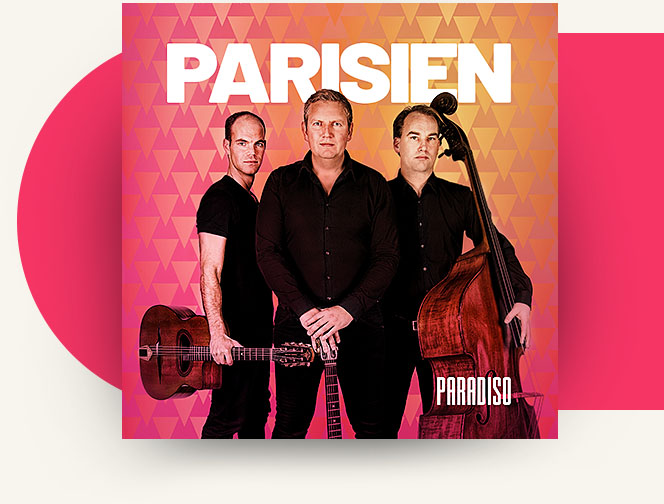 Concerts & Festivals
Parisien plays (internationally) at festivals, in theaters and at various music locations. The trio has many years of stage experience. This is clearly reflected in the performances. They always know how to create a very dynamic performance with surprising elements that ensures a sensational Gypsy Jazz experience for both new listeners and connoisseurs.
Corporate & Private Events
Parisien is also a fantastic addition to any event, whether it is a wedding, a private party or a business meeting. Thanks to the acoustic instruments, the performance can be perfectly tailored to the audience and location. Parisien creates the right atmosphere and makes every event unforgettable.
Collaborations
The trio also regularly performs with other (guest) musicians. They have shared the stage with many famous names such as the Rosenberg Trio, violinist Tim Kliphuis, vibraphonist Frits Landesbergen, singer and guitarist Johnny Rosenberg, violinist Watti Rosenberg and many others. A unique Gypsy Jazz sound is created in every formation. This guarantees a great show.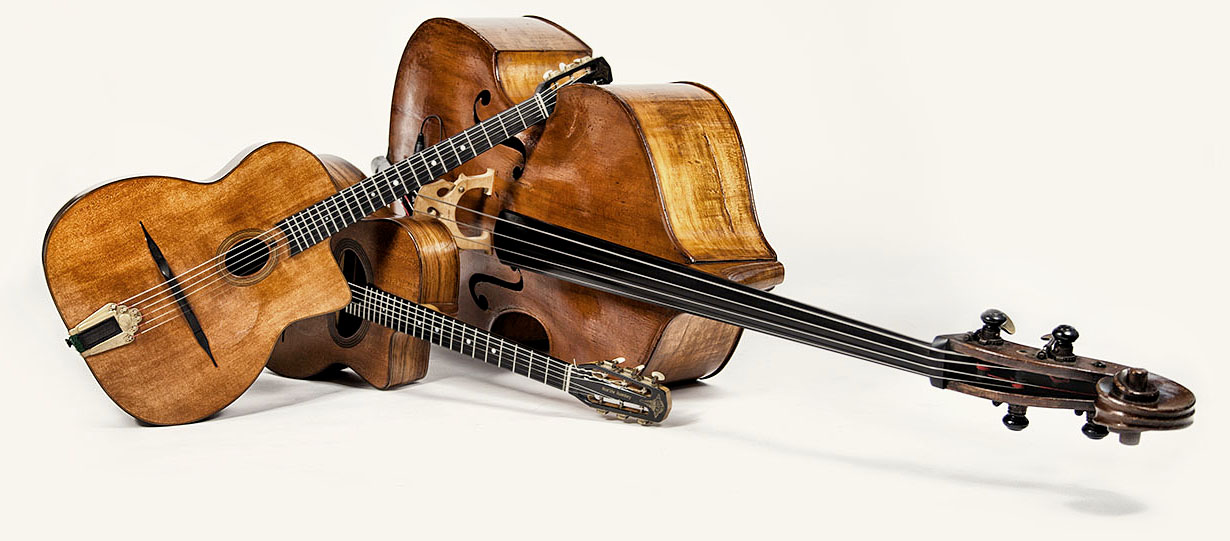 29 NOVEMBER 2019




PROVINCIE OVERIJSSEL, NIJVERDAL



11 JANUARI 2020




BKL GALA, LELYSTAD



15 FEBRUARI 2020




PRIVÉ EVENEMENT, AMSTERDAM



15 MAART 2020




CONCERT THEATER POSA



19 MAART 2020




TELESTE, MAASTRICHT



06 JUNI 2020




JAZZFESTIVAL ENKHUIZEN